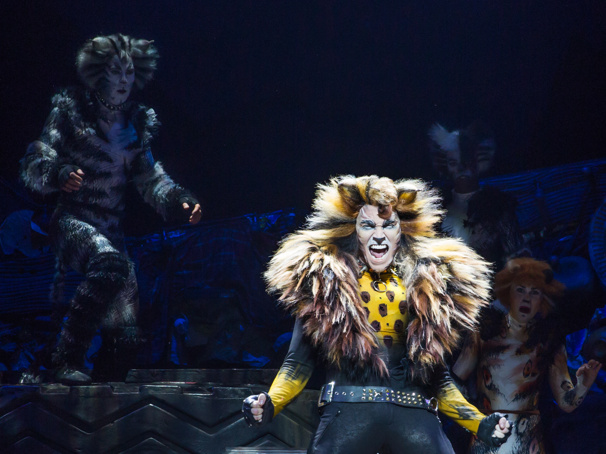 The 2016 Broadway revival of 'Cats'
(Photo: Matthew Murphy)
Get your tickets to see 'Cats' today!
Jellicle Cats come out tonight! Jellicle Cats come one, come all! Tickets are now on sale for the new national tour of Cats in Albuquerque. The traveling production of Andrew Lloyd Webber's Tony Award-winning will open May 16 at Popejoy Hall and run through May 19, 2019.

Audiences and critics alike are rediscovering this beloved musical with breathtaking music, including one of the most treasured songs in musical theater—"Memory." Winner of seven Tony Awards, including Best Musical, Cats tells the story of one magical night when an extraordinary tribe of cats gathers for its annual ball to rejoice and decide which cat will be reborn.

The original score by Lloyd Webber (The Phantom of the Opera, School of Rock, Sunset Boulevard), original scenic and costume design by John Napier (Les Misérables), all-new lighting design by Natasha Katz (Aladdin), all-new sound design by Mick Potter, new choreography by Andy Blankenbuehler (Hamilton)—based on the original choreography by Gillian Lynne—and direction by Trevor Nunn (Les Misérables), make this production a new Cats for a new generation.

The touring cast of Cats features Keri René Fuller as Grizabella, McGee Maddox as Rum Tum Tugger, Phillip Deceus as Alonzo, Lexie Plath as Bombalurina, Mariah Reives as Cassandra, PJ DiGaetano as Coricopat, Liz Schmitz as Demeter, Kaitlyn Davidson as Jellylorum, Emily Jeanne Phillips as Jennyanydots, Tion Gaston as Mistoffelees, Tony d'Alelio as Mungojerrie, Dan Hoy as Munkustrap, Timothy Gulan as Peter/Bustopher Jones/Asparagus, Tyler John Logan as Plato/Macavity, Anthony Michael Zas as Pouncival, Rose Iannaccone as Rumpelteazer, Ahren Victory as Sillabub, Ethan Saviet as Skimbleshanks, Halli Toland as Tantomile, Devin Neilson as Tumblebrutus, Brandon Michael Nase as Victor/Old Deuteronomy and Caitlin Bond as Victoria.

Don't miss your chance to see this iconic, one-of-a-kind musical; buy your tickets today!